Our Supply Chain Manager, Teresa, and I recently took some time out of our busy work schedule to check out the Amcon show at the Convention Center in Denver. It was a spectacle of various contract manufacturers, 3D printers, and metal / plastic suppliers. Each vendor had a different service to offer and Teresa and I were sure to take note. As we spoke with each of these vendors, we always had our customers in mind. Although there was quite a bit of overlap when it came to the services offered, each vendor had a unique service that could optimize any number of our customer's products.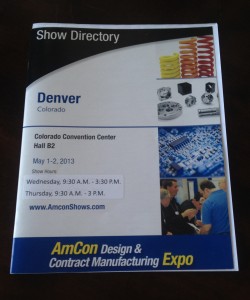 After speaking with several of these vendors, we promptly set up location site visits to get a first hand view of each vendors capability's and their facility. This is what we in supply chain call "vetting." Our purpose to go to the Amcon show was to see what's new and who's new. This event offers us both of these options and it a good way to keep our Preferred Supplier List (PSL) up to date so we can offer the best suppliers to our customers.
Many of the facilities we visited have been local suppliers and manufacturers. Why local? It doesn't have to do with a strict belief in on-shoring or flag waving rather that for various valid reasons some of our customers want to keep their manufacturing close to home. Medical products, with long validation cycles are one good example, as well as more complex products that could see many Engineering Change Notices (ECNs) during the ramp process. And we even have customers who see the wisdom in having manufacturing close to us, especially those who utilize Zebulon Solutions as their virtual operations department. We get it, it's just one less thing the customer has to worry about and we gladly take on the responsibility.
Even for our customers who prefer Asian manufacturing, it's also useful to have local sources for prototyping. And Mexico, a popular solution in recent months, offers a good combination of lower costs yet easy access—Teresa is commuting back and forth to Juarez these days for one of our larger customers—which also allows for a mixed US / Mexico supply base in some cases. As eclectic as our customer base is, so are their productization needs and that's why we are constantly seeking out an array of manufactures and suppliers.
Steph
P.S.
Interested in attending AmCon? Follow the link below to find shows near you: