It turns out where safety is concerned, don't toy with toys.  Just like our work in baby products, there are reams, literally, of specifications for children's toys.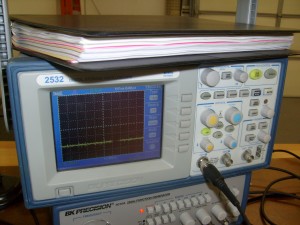 We're neck deep into pretesting a new toy product (not our place to say what it is, but suffice it to say it's way cool, has moving parts, and is programmable). After having crawled through the massive ASTM F963-11 spec, the definitive set of toy regulations for the US, over the past couple of days we have been crawling through the corresponding Canadian and EU toy regulations. Anyone speak CSAS-22.2-ese? The binder containg these specs now measures 29 mm thick and growing like a tamarisk (a tree-sized weed for those not from around here…).
As far as actual testing, we have generated a pretest plan (this is all part of the back end of the design process; we pretest now so that when we eventually have a certified lab do the final tests, there is a high likelihood of a pass) and have started on some of the early lab tests.  We have broken a couple of things already (hey that's what we do: We Design, We Test, We Break Things) but that's what we're supposed to be doing, testing stuff harder than it will be used in real life so that all the breakage occurs in our lab, not in Junior's playroom.
Still can't claim we're experts but we've come a long way.  Got any toys that you want to break, send 'em our way.
Chuck