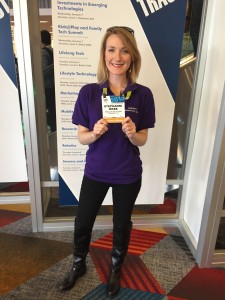 My first day at CES has been nothing short exciting! There were so many cool tech products to see and things to do, and that was just the Tech West room! Tech West offered an array of exhibitors ranging from smart home to fitness & technology to 3D printing and robotics. There was no possible way Teresa and I could talk to everyone, but we certainly did our best!
We had the chance to meet some really cool tech companies with some fantastic products. One of the vendors we had the opportunity to chat with was Quell, based out of Waltham, MA. Quell offers a band that you wear around your calf to curb any nerve pain. It works with the nervous system and sends electrical currents throughout the body to relieve pain. I know I could certainly use one of those from my lingering soccer injuries! We also spoke with a really cool company, Humanscale, who makes ergonomically correct office furniture. Not only does their furniture move to fit your body's needs (sitting or standing), but it also has the ability to count calories based on your movement throughout the day.  What some of these products can do is pretty incredible!
Of all the technology products and booths we saw, we were fortunate enough to run into some of our Colorado neighbors! Aspect Solar, based out Lafayette, makes portable solar power panels that can charge your electronics. Perfect for on the move or camping! We also had the pleasure of checking out Lulzbot's latest 3D printer, the Lulzbot Mini, which was presented at CES today. This 3D printing company is based out of Loveland, CO and makes awesome portable and hobbyist 3D printers. We love seeing our neighbors at CES!
Trust me when I say, those are only a few of the many, MANY product companies we talked to today. I can't wait for tomorrow to continue our CES adventure which will be filled with more CES Expo (Tech East) and the latest in tech marketing! Also, more photos to follow!
Stay tuned . . .
-Steph