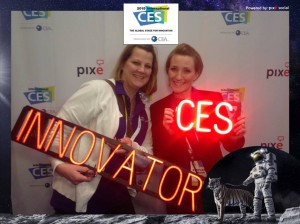 Day 2 of CES was just as overwhelming and exciting as the first. Today, Teresa and I made it to the marketing portion of the show at the Aria and the Tech East at the Las Vegas Convention Center. I found the marketing show to have some interesting new developments. One particular exhibit that really stood out to me was the new advertising technology recently developed by Panasonic. Their marketing concept is a common ad practice with a twist. Companies can buy ad time from Panasonic's two leading ad spaces, televisions on commercial airlines and sound decks/systems you would have in your car. It sounds pretty standard, right? The kicker: there's a camera placed in both the televisions and sound decks. These cameras have the ability to capture the consumer and their reaction to the ad to help the advertiser distinguish their demographic and manipulate their ad content based on the consumer's reaction. The cameras can recognize emotional responses such as happiness, sadness and anger. Some may find this technology rather invasive, but it's innovative none the less!
Tech East offered a large portion of iProducts and automotive technology. I spent hours just working my way through the iProducts section. There were booths among booths of various phone cases with some really cool technology incorporated within. We just so happened to stumble across another one of our popular Colorado neighbors, Otterbox! Otterbox unvealed their new water resistant battery-charging phone case Thursday at CES! Not only did we run into Otterbox, we stumbled into my old high school buddy,who's  currently living in St. Louis, MO, Grant Tucker! Grant, a Field Sales Rep for Otterbox, gave Teresa and I a demonstration of the new case by actually dropping it into water. Needless to say, it works like a charm! Thanks for the demo, Grant!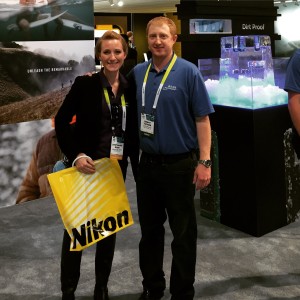 Eventually Teresa and I wandered into the Automotive Technology section of Tech East and my goodness, were there some awfully fancy cars! But the show-stopper, without a doubt, was the McLaren 650S Spider. It's beauty is unparalleled with it's luxury interior, design and engineering. No, I'm not a spokes person for McLaren, but the car was truly unbelievable. It has a retractable hard top roof, LED headlights, dihedral doors, it can reach 60 mph in three seconds and it's top speed is 204 mph! If only the line wasn't a mile long to sit in the car. She was a beaut, see for yourself!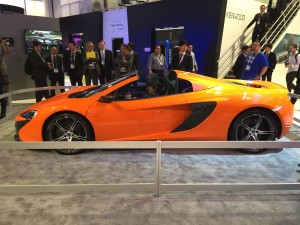 CES was a marathon of technology and business development. We saw some amazing products and conversed with some pretty fantastic innovators! I can confidently say that CES is by far the coolest tech conference I have ever been to! I would love the chance to go again next year (hint hint, Chuck)!
-Steph