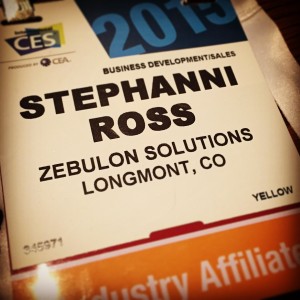 The Consumer Electronics Show this year did not cease to impress. Although it was my first year and I have nothing to compare it to, I have never been to a show quite that massive. I should have guessed it was going to be large when the show was held at three of the largest venues in Las Vegas: The Sands Expo Center, Las Vegas Convention Center & World Trade Center and the Aria's C Space, which is about 2.2 million square feet when put all together! Or perhaps the reason it felt so overwhelming was the 3,600 exhibitors and 170,000 industry professionals. That's a lot of companies to see and people to network with!
How did we navigate such show? Luckily, the CES planners knew what they were doing by strategically  placing products by area-specific marketplaces, which enabled us to easily locate specific areas while easily seeing the relationship between various technologies.
Teresa and I had the chance to network with over 40 companies in the two days we were at CES. Some of the products resided in the 3D printing world, some resided in the iProducts world and several others in the health industry and automotive industies. We noticed that each company could use our services in some form or another, whether that was help searching for a contract manufacturer or design help for their next product. Hopefully something will come to fruition with one of these innovative companies, we would love the chance to work on their products!
If I were to do this again next year, I'll be sure to do a little research before I leave. Being in the industry that I am and offering the consulting services that we do, it would have been in our best interest to target certain products in certain locations.  To go in blind with that many companies and products makes it hard to generate "targeted" and strategic business. I also would recommend eating a big meal in the morning and be sure to wear comfortable shoes! Networking and business development takes stamina, people!
-Steph