Two supply chain folks meet in the airport.  One says, "Hi Jack, did you bring the BOM?"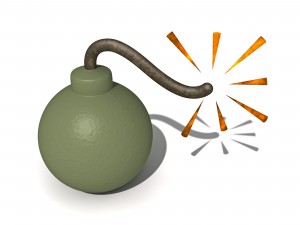 OK, so humor isn't our forte.  But BOMs are.  A good, clean Bill of Materials (BOM, pronounced just like bomb) is necessary for manufacturing any product.  Seems like a no brainer, but it's amazing the number of small businesses that build products without a good BOM (or drawings, but that's a whole 'nother matter).  Often the excuse is that it's outsourced; often it's time to market; sometimes it's just about those round toits (I'll get around to it…).
A good, clean  BOM is not tough to build.  Oftentimes the basics can be automatically generated as the outputs of a CAD program.  While this is a start, it's not enough.  A BOM, at a minimum should include:
General

A tiered structure–so that subassemblies can be identified and rolled up
Specify the volumes for which it is costed
A date and revision designator

Fields

Line item numbers–seems trivial but makes it much easier to ID issues and socialize changes
Manufacturer (although sometimes this is part of a separate document, the AVL (Approved Vendor List)
A unique part number and also the Manufacturer's Part Number
Quantity
Unit cost
Extended cost–unit cost multiplied by quantity
Lead time
MOQ (minimum order quantity)
Just be careful discussing the subject in airports.
Chuck