We're a small company but growing.  Up 70% last year, thank you very much.  And the world, while it's not actually shrinking, sometimes it feels like it is.  The internet speeds communications, Skype brings us face to face virtually, and Qantas, United and SAS bring  face to face for real, when needed. So then again, maybe we do live in a shrinking world.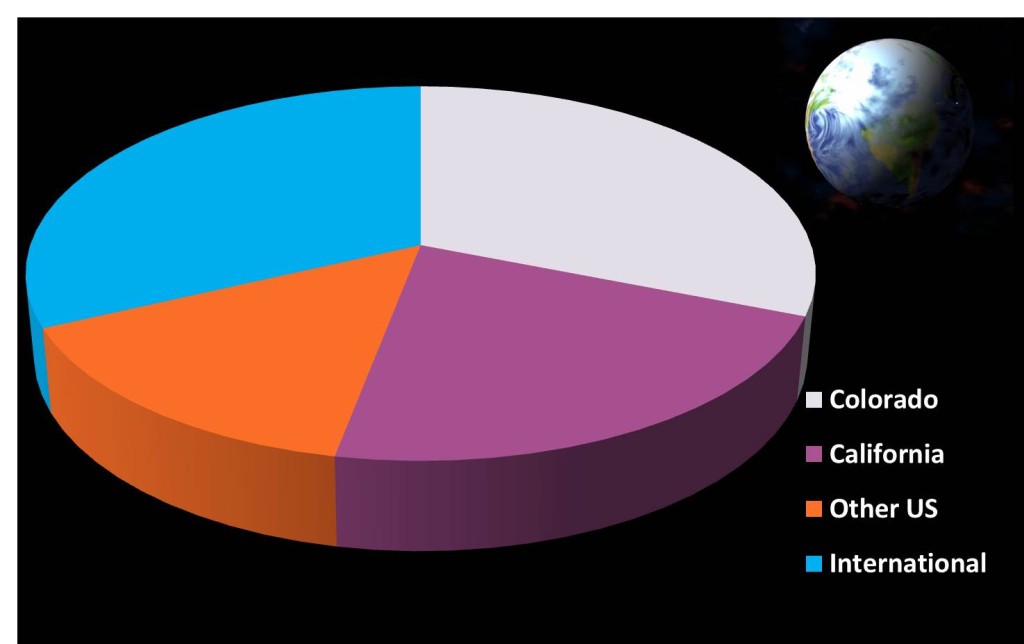 So we did a little data mining recently.  Over the past three calendar years, our business has been split into roughly thirds: Colorado, rest of the US, and International. It's always felt a little odd to us that we have such large wedges outside of Colorado–there are, after all, many other design companies out there, and even a few who can do the back end industrialization as well frankly. We're good, but we're not unique.  We're always thrilled to get inquiries (and even more thrilled to get orders) from all corners of the globe.  In the past year alone we've booked business in China, Sweden, Australia, and, just today, Mexico.  China of course makes sense since much of what we do is electronics.  Sweden, well, I used to live and work there and speak the language, so it kinda makes sense, although this customer came in via a separate path.  As to Australia, that's oddly enough been one of our strongest markets for many years. Just got a new inquiry from there last night in fact.  As to the Mexico project, that's a brand new customer about which we can't say anything at the moment, other than we hope we will able to say Feliz Navidad eventually (and repeatedly).
On the supply chain side of the equation, of course we are equally if not more global.  Mexico and China are table stakes, but also Thailand, Canada, Hungary, the UK, Singapore, Malaysia and many more flags on that map.  But also Denver and Loveland, Baltimore and San Jose. We're all about finding the right solution for each project, for each customer.
Buenas noches.
Chuck