As we mentioned many times last week, October 3rd was Manufacturing Day.  Not exactly on par with the 4th of July or even Columbus Day—no nationwide holiday for manufacturing workers—but still important for raising the visibility of manufacturing in the community at large.
Zebulon Solutions joined CAMA—Colorado Advanced Manufacturing Association—a couple of months back as part of our commitment to help improve the state of manufacturing here in Colorado.  Frankly we do a lot of work with setting up supply chains and selecting vendors for our customers, and all too often the right answer is out of state or even out of the country.  We know we can't change everything overnight, but still we try.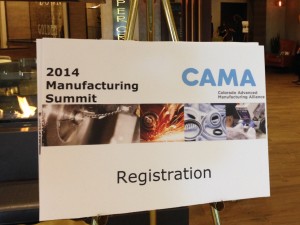 I took CAMA up on its invitation to attend the Manufacturing Day Summit in Golden, CO, famous as the manufacturing location for Coors beer (they have a really impressive tour, which included free beer, just saying).  I wasn't sure what to expect, or even if we would just be 10 of us.  But there were well over 200 attendees, representing not only all points of the manufacturing compass, from aerospace to medical, consumer to transportation, but also educators, banks, accountants, lawyers and others involved in the manufacturing universe.
The keynote speaker was Jim Blass from Caterpillar, as in the really big earth movers.  I knew I liked the guy when he said, regarding his job as Director of Global Product Validation, "It's a lot of fun and I get to break things on a daily basis." Our kind of guy.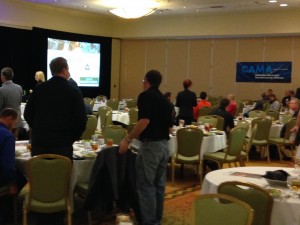 Some takeaways from the day, and from taking some time off from our own efforts at breaking stuff to ponder the meaning of manufacturing:
Marketing is just as important for manufacturers as it is for pro sports teams.  And let's face it, a John Deere gimme hat is as iconic as a Bronco's stocking cap.  (note to self—fast track those Zebulon Solutions shirts!)
The future is all about automation.  Not saying zombie factories with no people, far from it, because it takes lots of smart folks to program, maintain and configure industrial robots.  And it won't all be articulated robots, mostly smart conveyor and handling systems.  But automation is a way to level the playing field between China and the US.  More on this soon—we're working on a big automation project at the moment.
Manufacturers can't work in a vacuum.  They need a supply chain forward and backwards.  Assembling products with 100% China parts is not a great recipe for success, even with automation.  They call it a supply chain for a reason.
Logistics plays a big role.  The Caterpillar guy lamented about getting their huge machines from factories in Illinois to a port so they can be exported.
Even in the modern world, don't discount older technologies.  Wire EDMs have been cutting steel in hard to reach places for decades; lathes and mills, while computer controlled now and faster, still work much like my grandfather's.
Manufacturing takes skills.  We're losing manufacturing engineers, not to mention machinists and toolmakers, to retirement far faster than we replace them.
Quality shops have lots of business these days.  Three fourths of the local machine shops are too busy to take on new work.  Automation companies are brimming with work.  Even tool makers are booked out 12 to 16 weeks.
And manufacturing types are people too.  The most popular session was the B2B networking event at the end of the day, complete with a custom adult beverage ginned up just for us—the Camahama.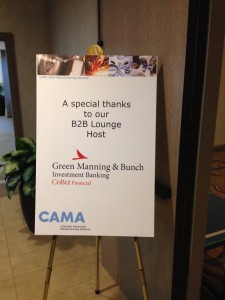 Only 363 days until Manufacturing Day 2015.
Chuck