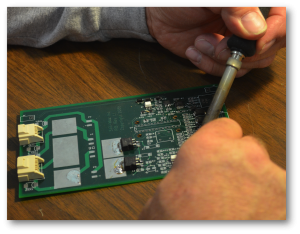 Zebulon Solutions Product Design services can help our customers design complete products or subsystems.  We can do the full design, take on a small piece or subsystem, or do the grunt work at the end to finalize the design.  We can do conceptualization and full system design, or work as part of a larger team. Many of these projects are skunk works projects, where we take on projects within larger companies that are outside of their core competence areas.
In all cases we do everything with an eye toward manufacturability, supply chain and cost. We also can apply the same skills to product redesigns.
Product Design Services
Concept design
While we are often considered (correctly) a back-end design company, we do get involved in early stage ideation and proof of concept work, mostly from customers who have learned the hard way that having the folks who know what it takes to get a product into manufacturing on the team from the get go is crucial to their long term success. We also take on skunk works projects from time to time, allowing our customers to continue to focus on their core competences while we explore radically new areas.
System design and engineering
Much of Zebulon Solutions system level design work is focused on optimization at a system level, which often requires both different skill sets and even different conclusions that simple board level design and optimization.  And system design can span many functional areas, including mechanical, software and aspects of diverse disciplines such as plumbing or control theory.  While we often do not have the specific domain knowledge in all the arcane specialty areas, we can provide the glue to pull these complex systems together.
Detailed design
Zebulon Solutions is the ultimate jack-of-all-trades-master-of-none when it comes to design.  We're not experts in any raw technology space but we know a little about a lot.
We also cover a broad array of disciplines, including:
Mechanical Design/li>
Electrical Design, including firmware and software development
Technical Analysis
Many of our projects involve cross-discipline design, with mechatronics emerging as a key straddle discipline that allows us to work on electro-mechanical systems and involve mechanical, electrical and firmware engineering all at once.
As part of the design process, we incorporate advanced technical analysis tools such as FMEAs, tolerance analysis, FEAs, etc. as needed.  And we like doing iterative design using quickturn prototyping technologies such as 3D printing (we have several shops who provide overnight service) and CNC machining (we have a great machine shop next door).
We also do engineering verification testing of what we design, both to provide feedback for iterative design and as a predecessor to more rigorous design validation testing.
And in all cases we do design with an eye toward manufacturing. DFx is table stakes for us.
Design p
rogram management
We can provide a skilled program manager to keep design programs under control, we can provide project management for our piece of the program, or we can work under our customer's program management umbrella.  Some projects are small and well-defined enough to not require such, but some programs are so huge that to do so without professional program management would be foolhardy.
And we can also integrate design and industrialization program management so that the entire product develop program is seamlessly managed from start to manufacturing sign-off.
Design finalization
In many cases our customer has taken a design most of the way, but needs help in finalizing the design.  While such tasks—drafting plastic parts, specifying coatings and misc. parts, generating drawings, writing documentation, compiling test results, etc.—appear simple, the 80 / 20 rule often applies (80% of the work is needed to finalize the last 20% of a design).  Not only is accuracy important—drawings can't be mostly correct—but crawling through the dirty details often exposes secondary and tertiary issues that need addressing.
We also can help with prototyping, either building one-off prototypes in-house or exercising our supply chain muscle to work with local prototype shops—machine shops, 3D printers, PCB fabricators and assemblers, metal benders, casting houses, etc.—to get parts build
Honestly we like this kind of work because it's so close to the manufacturing bone, and often our customers' engineers would rather focus on the new big thing, so this is often an excellent fit.
Skunk works
Every now and again we get a chance to tackle a project for a customer that is outside of their internal core competence, often times severely pushing the technology envelope.  While our customers typically have extremely competent internal teams, often these Skunk Works projects would be too distracting to do internally.
Baby Product: Design Finalization

Medical Device: Proof of Concept prototyping

Instrument: Complete Electronics Design