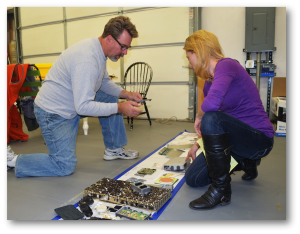 Reinventing the wheel is a bad idea, at least in most cases.  So world-class organizations are always checking out the competition, seeing how they do things with reverse engineering.  The MBA types call it benchmarking; we like to get our hands dirty and tear stuff apart.
Often times the purpose is not to actually copy anything directly (and avoiding  IP infringement is something we do take seriously) but to learn:
How is a product built? What kind of supply chain does it have? Who are the major component and subsystem suppliers? What kind of processes were used? How is it split up into subassemblies and subsystems? Was it designed for manufacturability? Was it design for repair?
It should be noted that product teardowns are an imprecise art and often involve a fair amount of forensics and even guesswork.  And for the most part teardowns can render a product less than perfectly functional, not to mention voiding the warranty.
Reverse engineering your product
Analyzing competitors' products to understand performance, cost and supply chain.  These are always done products that are available for sale on the open market by personnel who do not have any access to confidential information from the products vendor.
Note that we never do teardowns on products from past or present customers, nor anyone else where we are encumbered by previous non-disclosure agreements.
Reverse engineering is a much more detailed teardown, with an eye towards completely understanding  the detailed design of a product, subassembly or assembly.  Like a teardown, this is done from an open-market acquired product.  Care does need to be taken with any license agreements, for example; software that are a part of the product, and also other forms of IP such as design patents.
Reverse engineering is often very detailed and requires advanced technology such as 3D scans.
Supply chain and product cost reconstructions
Often this is the main goal of the teardown.  Finding clues as to how a product was made, and using these clues to develop a BOM, and often a product cost estimate.
Reverse engineering example
To help prospective customers see what kind of information a teardown might yield, we have done a complete teardown of an extremely high-tech product, a Ka band Block Upconvertor (BUC) used in satellite internet type products. In layman's  terms, the BUC is the power amplifier that converts the outgoing data stream so that it can be transmitted to the satellite.
To be clear, we're not trying to figure out the nuances of 26 GHz design (and at those frequencies everything is a nuance) rather to figure out how such a product is constructed.
Deliverables:
Estimated BOM, including all subassemblies and key identifiable components
Estimated process flow: how the product was assembled
Key supply chain findings
Annotated photos of disassembled subsystems showing key components and design features
Appropriate analysis
Teardown Examples