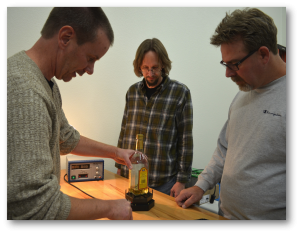 We design, we test, we break things.  Not just a pithy saying, because test really is central to productization, at every step of the process.  In the early design stages, we test out new concepts using rapid prototyping tools and quick engineering bench tests.  In the later design stages we do pre-testing for design validation testing to make sure we'll pass when we get there.  At the design validation test stage, testing takes center stage, and the entire project rests on the results.  And finally, once a product is in manufacturing it needs to be tested at the end of the line (and often subsystems need to be tested mid process).
Needless to say, it helps having a strategy that knits all these test elements together too.  Doing a proper job at DVT can mean reduced test needs in manufacturing for example, and less test time equals lower product costs.
Types of Product Testing
Independent test assessment
Similar to Independent Design Assessments, Zebulon Solutions can provide an Independent Test Assessment to look at the current test plan and implementation thereof and assess it for completeness, thoroughness, test coverage, quality of the test processes and fixtures, and how it all ties together.  Note that test has a Goldilocks aspect—not too much and not too little—so our assessment may also include comments on testing that may be overkill.
Test strategy development
Because test is so critical for assuring that quality product is shipped out the door, and because too much testing is almost as bad as too little (see the Goldilocks comment above), it is important to develop a test strategy. This strategy needs to cover all aspects of testing, from design validation and process validation testing done before a product is released through production testing—component and subsystem test as well as end of line testing—to various quality tests and audits such as incoming inspection and Out of Box (OOB) audits. A good test strategy takes into account not only preventing reliability and customer issues but also testing early enough to minimize the cost of rework.
Pre-testing
Most of the testing we do in our lab falls under the very general category of pre-testing.  Pre as in before it's absolutely necessary (see DVT below ). While we are not a certified lab, we can do a widevariety of pre tests on early prototypes and first off tool samples.  Examples of such pre-testing include:
Tension and torque tests
Bash tests
Life testing
Temperature extreme testing
Battery charge / discharge testing
Sound power level testing
Fault condition detection and survivability
And many more
These tests can be done on printed plastic  or machined parts, with appropriate consideration taken for differences in structural quality.  Printed plastic parts in particular can be tricky, as there are direction of build issues related to how the parts are printed.
Design validation testing (DVT)
Design Validation Testing, often abbreviated as DVT, is an important part of productization. Put simply, DVT is what is done to prove that the product meets its requirements as manifested through its specifications. This includes validating that the product meets functional and parametric requirements, including mechanical, hardware, software, environmental and regulatory.  Many products also have industry and / or end user specific requirements.
Design validation testing may include:
Test plan
Pretesting
Reliability testing
Environmental testing
Regulatory testing
Life testing
Abuse testing
Production test development
Since we're not a manufacturer, we don't do the actual production testing.  But we can define, develop, build and transfer test fixtures and systems to the manufacturing floor. Production test development may include:
Test spec generation
Test plan generation
Test fixture design and development
Test software design and development
Test system deployment
Design for test analysis
LED Lighting: Test Assessment

Baby Product: Pre-Testing

Kiosk: DVT Spec generation