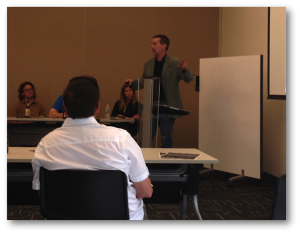 Because most of our team members have many years in the manufacturing and product development business at management and executive levels, we also offer management services.  We're not a consulting company per se, but we do help out key customers on the technical and operational management side.
Such engagements are always transitory in nature, fixing, improving, optimizing but then getting out of the way.  We can address high level manufacturing strategies or help out tactical hiring of firmware engineers.  We do fractional and interim executive gigs, but we also do behind the scenes coaching.
Manufacturing strategy consulting
We're definitely not your typical management consultants, but we do know manufacturing and we know how to get products into manufacturing.  We can help you look at your overall strategy from a 30,000 foot (or 9000 meter) level and then zoom in to the tactical details.
Fractional / Interim technical and operational executives
We provide seasoned operational and engineering executives on a fractional and/or interim basis to key customers. These executives are hands-on and work closely with our customers executives as well as build and or manage operations or engineering teams. Whether we are on board for a month or a year, 10% or 90%, we are part of your executive team.  We roll up our sleeves and get the work done. While geography of course plays a role, we have done this successfully as far away as Australia (see below).
Our longest such engagement to date was 8 months, our shortest just two months.  We've done half-time and we've done one-tenth time. We'll even help hire our permanent replacement at the end.
Unlike the myriad "CXO-for-hire" firms, we specialize in hands-on executives in operational or technical roles, not management theory consultants or plan generators.
Fractional/Interim Executive program examples:
VP Engineering for an Australian consumer electronics company
VP Operations for a local clean-tech startup
VP Engineering for a Florida industrial products company
Manufacturing contract negotiation support
Manufacturing contracts, often referred to as Manufacturing Services Agreements, or MSAs, are very specialized contracts that define which party takes what risk. Templates from the large contract manufacturers often contain hidden land mines, especially around inventory and the dreaded purchase price variance, or PPV.  Zebulon Solutions has extensive experience analyzing and negotiating MSAs, from both sides of the table.
Business analysis
We're also skilled at helping our customers analyze their business, especially from the operational side.  Examples would include:
Business plan support
Cash flow analysis
ROI analysis
Program & project management
Project and program management are the glue that hold together all product development efforts. We offer all levels of such services, including both doing the actual program management to helping customers set up an internal program management function and process.
We specialize in complex end-to-end programs that span multiple locations around the globe.
We can manage a complete product development program, manage a portion of it, manage one or more projects within the program, or just manage our piece of the puzzle.  We complement or supplement internal project and program management resources, lead them or work under them.  We can use our own tools and processes or the customer's.
Inventory Management System: Fractional Engineering Executive

Digital Touch Panel: Fractional Engineering Executive