One of my first mentors told me, "All things equal, I'd rather be lucky than good." As much as we would all like to think that business is about skill, talent, planning, and the like, it's also, just as with most things in life, also about luck.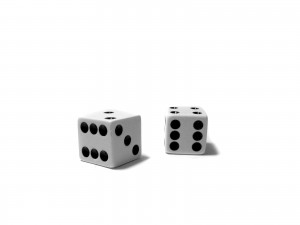 But there is such as thing as making one's own luck, and more importantly, being prepared when luck strikes. Return on Luck is just as important as Return on Investment.  Great companies have their ups and downs like everyone else, but they are ready to pounce when the die favor them.  Having a plan to deal with an uptick in orders. Building impulse capacity into the supply chain. Being prepared to accelerate market launch if the preliminary design validation testing results are promising. Having a plan for three design spins but also a plan if no spins are needed.
On the flip side, being prepared for luck does not mean neglecting contingency planning, backup plans and the like.  And sometimes luck favors the prepared.  We  at Zebulon Solutions have been looking for  a bigger space for some months. On of the first places we looked at was perfect for our needs but when we inquired about leasing it we found out someone had already put an offer in.  So we kept looking, found a couple of other spaces that would work, and made arrangements to stay in our existing space a little longer if needed.  But we heard through the grapevine that the landlord for that space we really liked and the perspective tenant were not seeing eye to eye on TIs (tenant improvements) so we kept bugging the realtor to keep us in the loop if that deal somehow fell through, even while we started to haggle on our second choice. Then out of the blue we found out that the deal had fallen through on our preferred space, and we snapped it up, getting a fair deal and the modest TIs we needed.  And since we had already done our homework on market rates, lease terms and the like we were prepared to move quick. We moved in yesterday, into a space that is perfect for our needs, with offices, a nice conference room, and a big lab where we can build, test and break things. And room to grow.  Yup, we got lucky.  But we also had made an investment in that luck, and it paid off with a handsome return.
Stop by and see out new digs: 1822 Skyway, Unit A, in Longmont, Colorado.
Chuck