A few of our best customers use us as a kind of skunk works, to tackle projects that don't fall in their core competence. And we don't stink at it, pun intended.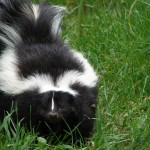 Honestly we don't typically call them skunk works projects, we call them weird s__t projects, but I can't really use that as a blog title.  Typically these customers are large companies well established in major markets and technologies but are looking to branch out into a market and / or technology that is new, either to the industry or to them.  Such customers have typically have highly competent in-house teams, but these teams are composed of people with skills and focus for their existing products and markets.
So we help out on the new stuff. Since this kind of thing is highly confidential to say the least, here's a deliberately vague example just to show some flavor: A billion dollar materials company wanted to break into an emerging medical device segment with huge potential but numerous challenges.  We helped prototype novel sensors and the electronics that go with it do demonstrate proof of concept but with an eye toward manufacturability and costs.
We've done similar work in the clean-tech, children's products, and IT technology spaces.  Similar in the sense of being a virtual skunk works, yet not at all similar in requirements, tasks and technologies. Some of this is very novel; some is laser focused on getting robust products to market.
Of course this is only a small piece of what we do, and sill most of our efforts are always spent on the back end, productizing weird s__t.
As for skunks, we don't keep any around as pets. Too stinky.
Chuck