I work at Zebulon Solutions as a junior engineer. I'm the guy in the back of the lab who wields a soldering iron, tests hardware and makes sure the lab is tidy in the wee hours of the morning. I am also the founder of a tech ed startup called QuestBotics Inc.
In my copious free time every year, I go to Africa to teach a Technology camp with Oysters & Pearls-Uganda. It's a two-week event and kids in northern Uganda flock to a school called Gulu High where they get to play with sensors, tiny robot brains (microchips), Legos, video games, motors and virtual reality. With over 120 students and around 50 staff members we have our hands full doing things like getting power turned on, chasing down Arduinos and Bluetooth units, training new incoming educators and eating as much tropical fruit as we can find. This year, we somehow found the time to add four new subjects for the students: UHF radio, audio, art and solar energy.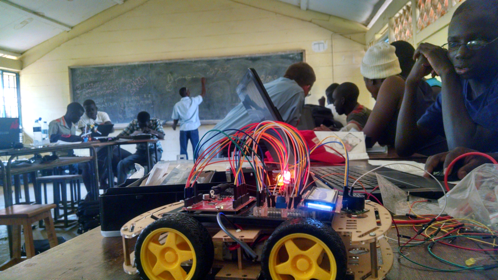 Two solid weeks of techie bliss
We're always pushing the boundaries of what we can teach at the Gulu Annual Tech Camp. The second year of its existence we were teaching printed circuit board design as a part of the prototyping course. Students had clamored in
the past for the opportunity to work with Bluetooth and other wireless technology. So, we bought a bunch of low-cost transmitters and receivers and hooked them up to some Arduinos. It was fairly easy for the students to get the units functioning and then came the fun part of running around outside testing the range limits. These radios were pretty good; kids were getting readings up to 90 ft away. Then we started asking questions such as: do buildings get in the way of radio signals? What kind of an environment might block a radio signal? What kind of homemade antennas will boost our signal? Not very many students chose to use the radios in their final prototype projects, but with a baseline of knowledge established among students and instructors we'll be able to explore channels, handshakes and radio applications next year. After all, even though it wasn't technically on the syllabus, this year some students were even communicating between Android Apps they built (with help from MIT App Inventor) and Arduinos via Bluetooth!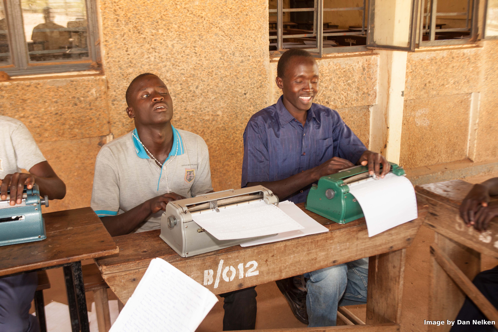 Tech designed specifically for the sight impaired allows our students to write and use computers
I've also been promising the blind students at the camp (~25 of our students are sight impaired) that I will do my best to get them the tools they need to get into audio production. Every year, a group performs a song as a chorus and they are amazing singers! This year, they were able to record backing music for their performance with the help of two sighted students who excelled in our audio workshops. The blind students guided the two young producers in the creative aspect of creating the track, while the producers gave suggestions for possibilities that the software would allow. This was the first time that the blind students had ever had the chance to work with audio technology beyond instruments and the joy showed on their faces. Unfamiliar with musicians such as Ray Charles, Stevie Wonder and Art Tatum, their main inspirations are the local church and their own inner drive.
Another first, the Affirmative Art team made an appearance as a partner at this year's camp. The kids and instructors were encouraged to draw their dreams and spend some time expressing themselves without electronics. (How does one do that…?) The artist in me relished the time spent with instructors Khalid and Nyeko. The engineer in me kept thinking that it was really a design process for the intangible. A cool side note is that Nyeko had actually attended Gulu High as a student some years ago before he decided to team up with Affirmative Art. I got the opportunity to tour their facility in Kampala where they regularly teach 100+ students after the camp was over. The textiles, ceramics, murals and painting were really cool and we talked for hours about the potential for combining art with technology over
African chai. (It's just like Colorado chai but without the milk.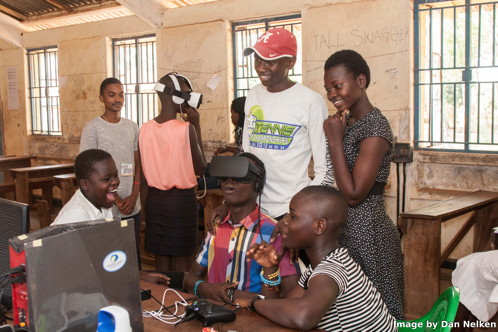 As well as robotics, students make and play video games or spend time exploring art and virtual reality

Another huge hit at the camp this year was the Solar City. We started off with an introduction to solar by local engineer, educator and Fundi Bot, Kasozi Samson. Then Samson led the class as we built the solar powered houses in the RechargeLabs' Solar Town and, in some cases, added donated Nokero Solar units as well. This was probably the most fun the students had all week (possibly with the exception of the video games and virtual reality). Students then took it a step further by building a miniature city and a solar array. The solar array had positional control using some light sensors and a servo so that the solar cells would always point towards the greatest source of light, no matter what time of day. This activity was a huge hit and it allowed students to flex their creative muscles as they designed their houses and the city.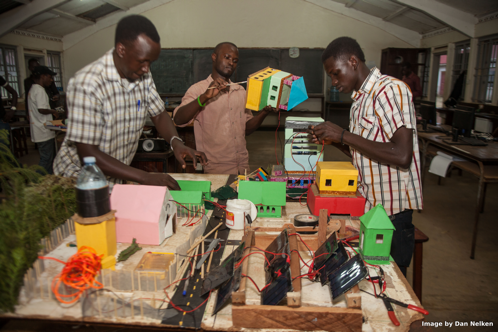 I'd like to dedicate a paragraph to the instructor, Kasozi Samson. I met Samson three years ago when I spent four months in Uganda teaching Fundi Bots instructors. Samson was one of those instructors. His journey to the Fundi Space, where he teaches, can take more than three hours on some days. But he keeps showing up for three reasons: 1) he loves the kids he teaches; 2) he loves the people he at the Fundi Space; 3) he loves the technology he works with, and believes it will help make the world a better place. When he's not teaching, Samson, a recent university graduate, works on his own business at home. He employs four or five people doing structural welding projects for local buildings. While others are busy using the welding skills he has taught them, he is working hard on his many CNC routers—machines which will allow him to build the parts he needs to build more machines. During my last visit, I witnessed him joyfully creating a shower of sparks from the electrical grid connection of mother's house as he showed me his water-splitting prototype. (We got that fixed pretty quick.) He is splitting H2O and saving the hydrogen so he can run his lab off the grid. The final design is intended to use solar energy to create a slow trickle of hydrogen. This kind of project can be dangerous, so there are fuses involved and he scales up slowly and carefully. The reason I have so much admiration for Samson is because he's an example of how fast someone in the Maker Community can dive deep into a subject and apply their skills in a real-world environment… and he still manages to find time to teach.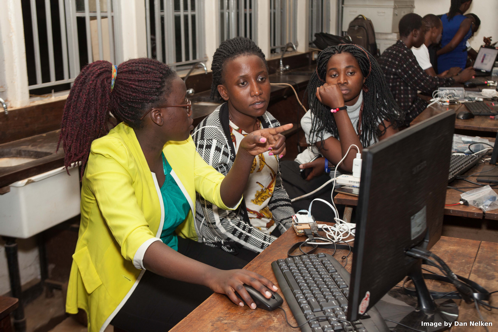 Using microcomputers such as Raspberry Pis or pcDuinos students dive in deep the first day
The camp is an opportunity for educators and students alike. For some of the students it is their first chance to work with computers. And they dive deep into sensors, motors, video game design and play with virtual reality. No one knows what is difficult and we don't tell them, so they take it all in stride as an introduction to technology. Ultra-High Frequency radio? Microcomputers and microcontrollers? PCB design? Yeah, they may think everyone learns that on day one. But the Ugandan instructors whom we recruit from local schools know better. This is evidenced by the 14-16 hour days the instructors put in for two and a half weeks straight. We teach some instructors in shifts while the others teach the students. The instructors who show a lot of dedication even walk away with hardware to take back to their schools to continue teaching. And it's sometimes hard to tell which group is more difficult to pull away from the tech as the camp gets ready for sleep in the quiet African night… the students or the instructors.
During my time at Zebulon Solutions we have also work with many organizations that help people across the world. Our prototyping and testing work with We Care Solar focuses on a product designed to help off-grid maternity clinics.  We've also helped develop high-volume solar lighting products, providing light at night for families and students doing homework, powering schools and more. I've even run into people who have attended We Care Solar workshops or worked with them during my travels in Uganda. Zebulon Solutions is proud to help these non-profits and companies.
Linz Craig
(photos courtesy of Linz Craig)