Because several of us, myself included, have a background in electronics, sometimes folks think we're just another electronics design shop.  And while we are skilled in that area, in truth a good 2/3 of our projects are mechanical or electromechanical in nature.  We have deep and broad experience in mechanical design, from enclosures to robotics to vehicular systems. We've designed everything from gears and motors to high reliability enclosures, from hinges on products for babies to sensors on products for hospital patients.  Not saying that we're experts on everything, far from it, but we can cover a lot of ground. And we're especially skilled at adding the structural, the manufacturable, and the functional beneath the beautiful veneer.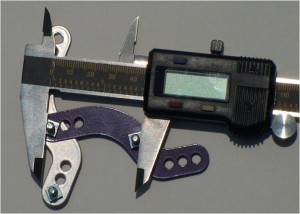 As with all of our design services, we can do both original design and redesign, and we also apply our mechanical skills to test fixtures and process optimization.  As with electronics design, we have a special aptitude for the weird stuff.  Being experts on productization, we also excel in designing for manufacturing and in cost reduction redesigns.  And we have extensive experience with the back end–tooling, molding, fabrication, machining–both at the technical and at the supply chain level.
And we're willing to do the grunt work. Everyone likes to do 3D CAD. No one likes to create the 2D drawings from the 3D CAD that are necessary for manufacturing, testing and quality assurance. Almost no one—we like it.  A high percentage of our mechanical design work is actually the grunt work after the 3D CAD is complete.  This includes not only creating the 2D drawings, but toleranceing them out properly for QA and test.  Speaking of which, we also have skilled techs who can do all manner of validation and verification testing, both parametric and brutal  (the "break things" part of We design, we test, we break things. )
A subset of our DFx offering, we also do a lot of work in designing for moldability and for assembly.  Like with 2D drawings, this is the grunt work that needs to get done after the glorious 3D CAD is completed.  Plastic parts need draft added to be able to come out of a mold, and often times subtle changes are needed so that the part can even be tooled.  Designing for assembly has a major impact on manufacturing yields and costs. Other areas of expertise include mechatronics, sensor design and integration, enclosures, and mechanisms.
Grab your calipers and come on by.
Chuck