Before I started working for Zebulon Solutions, I always assumed that testing products required extremely expensive, high tech devices and mechanisms with lasers and probes. You know, like something out of the Avengers. Perhaps I was a little overzealous with my assumptions, but I always thought big, shiny and expensive was the norm when it came to testing. Where this can be the case in many places and even in our own shop from time to time, those high tech gadgets aren't always necessary to get accurate testing done. In fact, many of our engineers have used some of my favorite everyday items, such as a hair dryer or one of my childhood favorites, Legos.
As you can see in this photo, Qi (our electrical engineering intern), is using a hairdryer for thermal/heat testing.  Slap a thermocouple underneath and we also can monitor the exact temperature.  For bigger jobs we have a heat gun (an industrial version of a hairdryer) as well as a fullsized thermal chamber (see below). But sometimes using a hairdryer to heat a small part up in ten seconds beats loading everything into a thermal chamber.
We sometimes use building blocks or Legos to build various testing apparatuses. In the photo below, we used a building set to create an early prototype of a vertical accelerometer test system.  Using this concept, we were able to demonstrate the feasibility of developing a complete production test system, not, of course, built from kid's toys.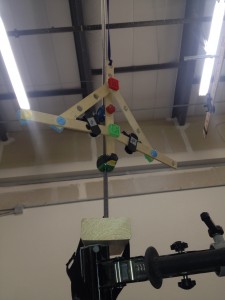 Everything has to be used in the right context, taking into account technical accuracy, repeatability and reproducibility (we're big fans of Gauge R&R) as well as cost and time. Other examples of everyday objects we routinely use include traditional engineers' favorites duct tape and WD-40, as well as a variety of hammers and even a fish scale (which we calibrate with a precision force gauge).
And of course when the job calls for more high tech tools, we have those too, from a programmable thermal chamber to a full electronics lab.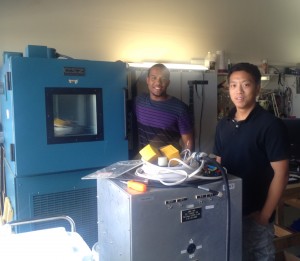 And yes sometimes we do have a little fun with this all too.
Steph