Where would we be without Prototypes?  I wouldn't be able to use some of my favorite products such as the iPhone to text some of my favorite people, or my Keurig for that quick, fresh cup of coffee in the morning… But in all seriousness, these products didn't happen over night. These products came to fruition through relentless design efforts and not one, but many rounds of prototyping.
I recently created my very first prototype for one of our customers. To be completely honest, when Chuck asked me to create a clay-and-cardboard model of an accessory for a baby product, I was a little worried.  Other than a few art and shop classes in high school, and working at Zebulon Solutions for over a year now, I was no product designer.  Little did I know, I had the ability create a basic, yet effective prototype.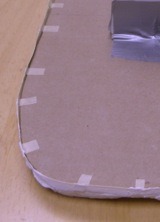 After given the proper dimensions, a template (it turns out Todd has the steadiest hand for freehand drawing), and the tools to create a prototype of the accessory, I sat down and carefully created the prototype with cardboard, tape, molding clay and spray paint. Needless to say, it was nowhere near perfect; in fact, it was slightly unattractive, with lumps and sags that calk and paint did not completely hide. But it performed its function, providing a way for us—and our customer—to visualize what the final product would look like.
Without a doubt, there will be another prototype, or maybe even five, following this one. It is essential to find and eliminate all errors before a product goes to manufacturing.  As an individual who is a perfectionist at heart, it was hard to not spend hours trying to create one "perfect" prototype on my first try. But I now realize that a truly finished, optimal product is the result of the many prototypes. It's just another form of perfectionism.
Oh yeah, if it wasn't obvious already, our perfectionist ways can help you create a great product too.
–Steph
PS—Took Steph's proto to the customer today.  Not only did they not poke fun at the sculpting imperfections, they were very impressed.  We drew a big crowd in their lab, and the final verdict was "yes, let's go with that concept."  So we will be CADing it up, and yes, we will undoubtedly do a couple of more rounds of prototypes.
–Chuck