In the first installment of what we hope will be a series of short interviews on a variety of topics, our new marketing maven, Steph Ross, interviews Teresa Neeley about what supply chain management is. And isn't.  Hint, it's not about supplying chains. Enjoy.
Chuck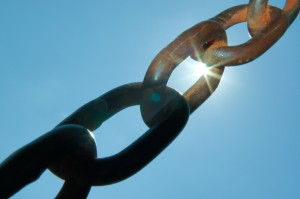 #
I'm a novice with all this supply chain stuff, Chuck's occasional blogs on the topic notwithstanding, so I figured that I'd start asking questions.  And who better to ask about supply chain management than Teresa Neeley, Zebulon Solutions' very own Supply Chain Manager (bet you didn't see that coming….). Better yet, she promised to explain all this in layman's terms, instead of all the crazy acronyms, foreign sounding techy terms and jargon that tend to fly around the lab. So here are three questions answered on supply chain management.
Steph
#
Steph: So what exactly does a supply chain manager do at Zebulon Solutions?
Teresa: We're a productization services company, which means we don't have our own products, rather we help prepare our clients' products for manufacturing. Supply chain development is a very important part of this process for our clients. So our Supply Chain Manager—for example, me—manages anywhere from one to all parts of an assembly for a particular product or product line for the client. This could include sourcing the entire assembled product, and any additional logistics that go along with manufacturing products. I start by first creating a Bill of Materials—often called a BOM, sorry,  you can add that to your crazy acronym list—necessary to create a product. I then provide the client with a list of appropriate contract manufactures and their locations, each carefully selected for the product and the volumes. It's then selecting the right supplier who can effectively meet the costs necessary to manufacture the product, all while keeping in mind the volume of the product and where its end user is.  Another significant part of my job is to help mentor clients through the new product introduction. I help the client to understand how their product fits into the suppliers manufacturing process and I supply them with the tools to plan, maintain cost and manufacture their product.
Steph: What is the most important facet of being a supply chain manager?
Teresa: The most important facet of being a supply chain manager is knowing what is best for our client. It's finding the balance between listening to what the client wants and understanding what the client needs. Through careful communication and experience, I feel I am able to better understand what the client needs.  I always take the time to sit down and really get to know the people at the company and their product. In doing so, I can find the client a supplier/contract manufacturer that is best suited for their needs.  It's all about relationships.
Steph: What is the most rewarding aspect of your job?
Teresa: When the clients build good working relationships with their contract manufacturers and suppliers. I know I've done my job well when the client and the contract manufacturer/supplier not only trust in what I do by bringing them together, but they trust in one another. I feel that building a good working relationship is what ensures a successful product. Knowing that I was a part of that process is extremely rewarding.