We're Hiring! 
Zebulon Solutions is looking for a full time Business Development/Project Manager. This is a fairly unique position, but can be highly rewarding for the right person!
Interested? Click here for more details.
We have a new website!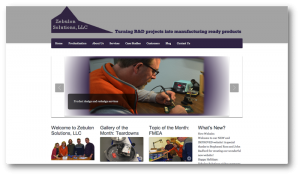 Welcome to our new and improved website! Please take a look around and check out our updated services! Some of our updated services include Product Redesign and Teardown to satisfy your productization needs!
A special thanks to Steph and John for their hard work on the new website!
We are on EEWeb.com's  SITE OF THE DAY! 
EEweb.com is an Electrical Engineering News, Resources and Community website. EEWeb.com is a premier Electrical/Electronic engineering community for hardware designers, electronics enthusiasts and hobbyist.
Check us out here: