Reshoring seems simple: bring manufacturing back home. The counterargument—offshoring saves money—is also simple, and for decades has been perceived as a winner. Reality lies somewhere in between, as the total cost of ownership needs to be considered, including intangibles.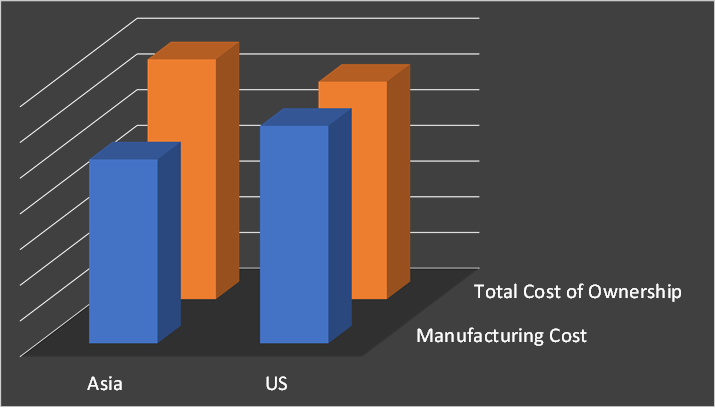 Conceding for the moment that there is real cost savings from low–cost offshore labor, let's look at the other factors that influence the total cost of ownership. 
Parts and materials—the cost for most products are driven much more by the cost of the bill of materials than the cost of labor. To first order, this is

independent

 of assembly location, but 

second order effects are common (e.g. sub supply chains, where do the materials and labor for the parts come from?)

 

Freight—both inbound

,

 for parts and materials, 

and

 outbound, to the customer

 

This includes the actual transport costs, but also packing, labor at both ends to pack and unpack, overhead for managing, shipping materials, insurance, 

everything

 

And it really depends on mode—surface, sea or air—with the latter being a wildcard that can show up unplanned to deal with intangibles like demand shifts or 

expedites

 (see below)

 

Tariffs

—much has been made about this recently, so we won't dive t

o

o deep into this, but remember this can apply at every level of the supply chain

 

Automation—this is the great equalizer for labor costs, but has a significant ROI aspect that has to be addressed in cost of ownership

 

Yield, scrap, and other attrition—this is related to quality, which can vary by region, but also ties to the supply chain and even automation (oftentimes the true benefit of automation isn't labor cost reductions rather consistency and tolerances)

 

Overhead—especially for lower volume products, this can be the real difference-maker in terms of reshoring vs offshoring. How many people on how many

air

planes to set up and manage an offshore supply chain can swamp piece part savings

 
Intangibles are also important, although tougher to quantify 
Patriotism—this is the moose in the room for any discussion of reshoring, the kneejerk reaction of "build it here, in my country/state/ town." This of course has local merit, but can lead to emotional rather than logical decisions.  This isn't the forum for

that aspect

, enough said

.

Branding—related to patriotism, but more tangible. Does

Made in USA

 (or for that matter 

Made in Germany

) add value to 

a

 brand? Not our area of expertise, but valid

.

 

Supply chain—this seems a duplicate from above, but supply chain

s 

are called chains for a reason, and how those chains splay out around the globe 

matters

 

In general, the shorter the supply chain the better—a molder on the same campus as the resin 

compounder

 (their supplier) and the contract manufacturer (their customer) has a huge advantage over a supply chain where all three are on

 

different continents

 

Cost of money—there is a real cost to carrying inventory, whether on the water or in warehouses or in WIP on an assembly line.  

 

Agility—the shorter the overall supply chain, the easier it is for a company to be agile, change product mix based on demand shifts, new markets opening, or competition. This is often the strongest argument for reshoring, as a short, domestic supply chain can dramatically improve agility

 

Management focus—if your CEO is 

spending

 all her time on midnight conference calls with 

a recalcitrant

 Asian supplier, is that really why she makes the big bucks?

 

Risks

 

IP risk is obvious and real

 

Global risks are on people's minds at the moment, and of course it's not just pandemics, it can be politics, war, famine, labor unrest or whatever

 

Other risks include boring things like getting products 

through

customs (has anyone not had issues at the Port of Long Beach?) or shipping damage

 

Yes

,

 insurance can cover some risk, but at a cost, and doesn't cover intangibles like brand damage

 
While every product and situation are different, in general a total cost of ownership can (and should!) be modeled.  This needs to include ROI, risk, cost of money, and intangibles. Then various solutions can be compared and the tradeoffs weighed in order to allow a data-driven decision.  Zebulon Solutions can help both with the modeling of the various options as well as managing the actual transitions to on the planet you choose to manufacture.